Events
Join us for in store events and workshops led by local Edmonton makers!
Our shop is open to the public for events. See what's upcoming!
COFFEE & CONVOS MOMS GROUP
WEDNESDAYS from 10:00AM to 11:30AM
Meet new moms, enjoy a free cup of coffee and hear from guest speakers! Join us Wednesday morning for a drop-in moms group. Babies and kids are welcome!
Learn more about Coffee & Convos drop-in moms group here.
LAP-TIME LED EARLY LITERACY WORKSHOP

WITH LIT & LITTLE
OCTOBER 8, 17, 22 AND 29
How can reading and singing change your baby's life? Why should you make time to focus on early literacy with your baby? Let's explore what the research has found.
We'll enjoy four sessions of shared reading, songs, rhymes, and more as you connect with your baby, and other parents and caregivers. We'll discuss early literacy milestones, best practices, and answer your questions. Our mission is to empower you and to equip you with the tools necessary to support your little one's development from birth and beyond.
Cost: $100 plus GST
BLACK & WHITE MINI PORTRAIT SESSION FOR KIDS
WITH PAPER BUNNY STUDIOS
OCTOBER 23 

from 11:00AM to 3:00PM

A perfect way to cherish all their charming quirks. Get 12 - 15 images and a 16 x 16 digital collage.

For all those changes that happen in the blink of an eye.

$179 per session and additional siblings are $25. If you bring a donation for the food bank, you'll receive $25 off.

Book your session here
KIDS WATERCOLOUR WORKSHOP
WITH KIRSTYN AMANDA
OCTOBER 1 from 2:00PM to 3:00PM
Join this Kid-Friendly Watercolour Workshop and learn how to paint a butterfly and a planet with me! This class is suitable for both adults and children.

Come by yourself, with a friend, or bring a child in your life that loves to be creative! We are going to be playing around with salt, water, and paint to create these two vibrant paintings. All supplies are included and provided at the workshop. Note: children must be accompanied by an adult
Child/Youth (3-16) - $15.00
Adult (17+) - $25.00

Limited tickets available. Please note all tickets are NON-REFUNDABLE, but can be transferred to another person to use.
HALLOWEEN FLOWER DESIGN WORKSHOP (SOLD OUT!)
WITH THE SOCIAL FLORIST
OCTOBER 27 from 7:00PM to 8:00PM
Join Jacquie from The Social Florist for an evening of creativity!
You will design with a selection of both fresh and dried flowers, greenery in a ceramic pumpkin vase.
Workshop Includes: Assorted Dried + Fresh Flowers, Pumpkin Vase, Halloween Treats, and ALL the tools you will need to complete your design.
BONUS: $10 gift card to spend at The Fourth
All of the above for just $40! Limited number of tickets available. What are you waiting for? Grab your ticket TODAY!
INFANT & CHILD CPR AND CHOKING WORKSHOP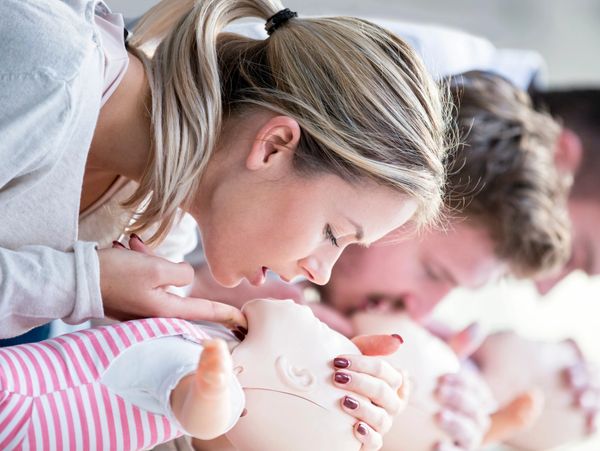 WITH MAMA BEAR PLAY CLUB
NOVEMBER 13 starting 1:00PM
JANUARY 29 starting 1:00PM
Join us in learning important life saving skills for your infant and child. Perfect for expectant parents, new parents, grandparents or any caregiver who has a child less than 10 years of age.
During this 1 hour workshop you will learn how to:
Recognize the signs of a choking infant/child and treat this choking event whether your infant/child is conscious or unconscious.
Recognize an emergency situation and the need for cardiopulmonary resuscitation (CPR)
Perform high quality CPR on an infant and child
Classes include instructor lecture as well as hands on practice with real-time feedback manikins. These are not certificate workshops and therefore allow us to tailor our classes to meet the needs of our participants.  
The instructors, Andrea and Amanda are Heart and Stroke Certified. Andrea is a Registered Nurse in the NICU and Amanda is a Licensed Practical Nurse in Maternity. 
Anyone is welcome to attend including non-mobile babies. 
Price: $55/person or $75/couple 
COMING SOON
OCT 29 - 30 Christmas photos with Suzi Buhiire Photography
NOV 18 - 20 Christmas photos with Paper Bunny Studios
Join the waitlist! Email info@the-fourth.ca and get notified about the next workshop you're interested in.